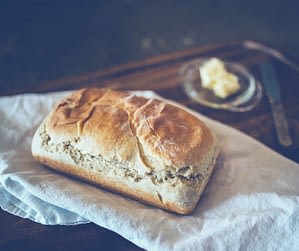 Lets talk dough.
What does a loaf of bread cost lately? I haven't a clue, to be honest. Designers do not live on bread, they function mostly on coffee!
A website is not like a loaf of bread, because not all websites are created equal. It's a tool built especially around your business. It tells a story, it explains, it informs or entertains – it has a unique purpose. Whereas, bread is bread. It costs pretty much the same everywhere. And its function or purpose is the same, whether you buy artisan bread or a government loaf. Well, mostly – I'm sure you get the point. Not every website is going to cost the same. Here are four main expenses involved in getting a website:
1. Domain registration / annual domain renewal fee
You need to buy your domain name. There are different prices for different domains – a .com is more expensive (usually) than a .co.za, for example. Domain names with highly searchable keywords will also go at a premium. You can expect to pay around ZAR100 for a .co.za in general. You pay that fee annually to keep that domain name.
2. Hosting costs
You have to park your site somewhere. Hosting costs are normally cheap – but bear in mind, hosting companies only HOST, they don't do upkeep or maintenance (they usually offer back-up services, though). These can be paid upfront for a year, or on a monthly basis.
3. Design fee
Here's where the dough hits the pan. You can pay anything from R2000 to R200 000 for a website. It depends on so many things. Let it boil (bake?) down to two things:
What do I want my website to do?
What is my budget?
And once you have your recipe, find someone to cook it for you. Find a web designer who builds the kind of site you need, the kind of sites you like – someone who listens to you.
4. Maintenance
Websites don't just sit there and look pretty. A stagnant website says, hey, my business is dead. Toast. Always considering adding, updating or revising content – as is relevant to your business and your industry. Then, make sure that the little bits and bobs that keep your website running (the background stuff) are kept updated and secure. And consider paying someone to do this for you.
Nothing better than the smell of fresh bread. Or a beautiful, well-designed website….
Do you want a website? Have a question? Call, email, connect on Facebook with WebWeaver.